Tomica Hero: Rescue Fire (トミカヒーロー レスキューファイアー, Tomika Hīrō Resukyū Faiā?) is the second season of Tomica Hero. A sequel to Tomica Hero: Rescue Force, Rescue Fire tells of another branch of the United Fire-Defense Agency that helps save people from Super-Fires created by demons seeking to make people suffer. This series marks the beginning as well as an end of a program franchise dubbed the Tomica Hero Series. The Tomica Hero story was concluded in the special stage production Nissan Haul Special Live Stage FINAL that featured the return of Obuchi, a new R4, and the return of the original R4.
Characters
Heroes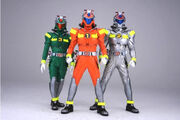 Allies
Naoshi Taiga
Tatsugoro Megumi
Yoshie Megumi
Jiro
Yukio Watari
Villians
Jakaen
Biken
Inukaen
Kinokoen
Keitaien
Karasuen
Bananaen
Haekaen
Kanitanken
Cabbatruen
Hebikaen
Roboten
Ikutteren
Mamekaen
Nekkoen
Kumokaen
Natsukazeen
Rocket Hanabien
Roboikakinokoen
Obakeen
Barakaen
Katchuen
Mukadeen
Koalaen
Hyper Shachihokoen
Rescue Vehicles
Rescue Dash-1 - A special regulation Nissan 370Z cruiser assigned to Fire-1.
Rescue Dash-2 - A special regulation Nissan Paramedic ambulance assigned to Fire-2.
Rescue Dash-3 - A special regulation Nissan Cube assigned to Fire-3.
Rescue Dash-4 - A special regulation Nissan Skyline Coupe assigned to Fire-4.
Rescue Dash-5 - A special regulation Nissan X-Trail assigned to Fire-5.
Rescue Dash-6 - A special regulation Nissan Murano assigned to Riku.
2nd Generation Rescue Vehicles
An ambulance like vehicle similar to the Fire Dragon. He can transform into a robot named X-Dragon Robo,as well as a drill. It can be controlled via Rescue Megaphone.
A robotic lion with it's own spirit. It can also transform into a drill.
Upgraded Medium-Scale Rescue Vehicles
Rescue Vehicle Combinations
Super Fire Dragon - The Super Fire Dragon is the combination of all three Dragon Vehicles.
Super Jet Falcon - The Super Jet Falcon is the combination of both Falcon Vehicles.
Great Wyvern - The Great Wyvern is the combination of the Super Fire Dragon and the Super Jet Falcon.
Rescue King - The Rescue King is the humanoid combination of the Fire Dragon and the X-Dragon.
Great Wyvern GX - The Great Wyvern GX is the combination of the Great Wyvern, the X-Dragon, and the GaiaLeon.
Wyvern Cannon - The Wyvern Cannon is the combination of the Dozer Dragon and Turbo Dragon with the Super Jet Falcon, serving as a cannon for Rescue King.
Cerberus Dragon - The Cerberus is the combination of the Fire Dragon and all five upgraded medium-scale Rescue Vehicles.
Rescue Tools
Fire Extinguisher Mode
Sword Mode
Gun Mode
Break Hammer
Break Ax
Break Pick
Break Hand
Break Drill
Break Shot
Break Rope
Music
Opening Theme
Ending Theme
Episodes
External links
Community content is available under
CC-BY-SA
unless otherwise noted.