Yuma Megumi also known as Fire-2 is a member of the Rescue Fire Team. He serves at the team's paramedic.
Character History
to be added
Fire-2
Fire-2 is Yuma's fire suit. Aside from having the standard equipment, it also comes equipped with a Rescue Breaker to accommodate Yuma's Hikeshi style of rescue work.
Utilizing the Rescue Breaker's Break Axe Mode, Fire-2 can execute the Axe Storm (アックスストーム Akkusu Sutōm, Axe Storm?) , a charged slash attack where Fire-2 spins around three times before releasing an "axebeam" of energy.
Arsenal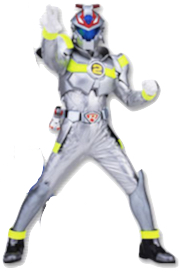 Notes
Yuma's use of the Rescue Breaker's Break Axe mode is a modern variant on how hikeshi used a tobikuchi to fight fires in the Edo period. Tobikuchis are seen by many historians as an early example of the modern fire axe that firefighters use around the world.
Portrayal
Behind the Scenes
References